Today you will discover 63 Christian love quotes that will inspire you to love others the way Christ first loved you. Without love, we all perish and the 63 Christian quotes about love or Christian love quotes below will help you be a godly example to other believers through your Christ-like love.
63 Christian Quotes About Love.
1.  Without agape love, your Christianity is dead and fake. Samuel Zulu.
2. True Christianity is all about loving others as Christ first loved us even if we don't deserve His love. Samuel Zulu.
3. Loving others because we are getting something from them isn't real love at all as God's love isn't self-seeking. Samuel Zulu.
4. If Christians of nowadays truly loved each other's, all the gossip and drama we hear in churches today wouldn't exist. Samuel Zulu.
5. Lack of agape love from above is why many so-called Christians of today can betray and backstab each other and backs. Samuel Zulu.
6. God's love is the only love that can satisfy a complex human soul. Samuel Zulu.
7. If you drink of God's love, you will never be thirsty for love again. Samuel Zulu.
8. Let your Christian love be a godly example to thy fell believers in Christ. Samuel Zulu.
9. You can't have true love for others if you haven't been to the cross of Calvary first. Samuel Zulu.
10. True Christian love is all about putting others first as Jesus Christ did for our sakes so that we can be saved from sin. Samuel Zulu.
11. Genuine love from above has no selfish motives, unlike love that comes from natural and selfish men. Samuel Zulu.
12. Remember, perfect love from God has no fear as you can't truly love with fear in you. Samuel Zulu.
13. Without God's love, any kind of friendship or relationship won't last long. Samuel Zulu.
14. Jealousy has no place in a life of a truly born-again Christian who understands what true love is all about. Samuel Zulu.
15. There is no greater love one can give than to lay down their life for another. Samuel Zulu.
16. Real unconditional love is only found in God through Jesus Christ. Samuel Zulu.
17. Natural man isn't born with unconditional love because we are all selfish by nature due to our fallen state. Samuel Zulu.
18. If you want to love others the way Jesus Christ expects us; you must first surrender your life fully to Him. Samuel Zulu.
19. Christian love, either towards God or towards man, is an affair of the will. C. S. Lewis.
20. He God loved us not because we are lovable, but because He is love. C. S. Lewis.
21. Love is an act of endless forgiveness, a tender look that becomes a habit. Peter Ustinov.
22. Ah, Lord Jesus! I never knew Your love till I understood the meaning of Your death. Charles Spurgeon.
23. Love does not consist in gazing at each other, but in looking outward together in the same direction. Antoine De Saint-Exupery.
24. I never knew how to worship until I knew how to love. Henry Ward Beecher.
25. This is the love of God, the alchemy that can turn enemies into children. Mark Buchanan.
26. The love of God is deeply rooted in the sacrifice of His Only Begotten Son, to save mankind from sin. Lailah Gifty Akita.
27. Looking for someone to value what you have, will keep you coming up empty. E'yen A. Gardner.
28. God does not love some ideal person, but rather human beings just as we are, not some ideal world, but rather the real world. Dietrich Bonhoeffer.
29. Arrange your life in such a way that you don't make choices based on fear of God, instead of love of God. Shannon L. Alder.
30. God wants to win you not by exercising His power, but His love. Steven Chopade.
31. Love conquers all, thank you Lord Jesus for your unconditional love. You are worthy to be praised. Euginia Herlihy.
32. Love is the beauty of the soul. Saint Augustine.
33. Are you angry with someone? Pray for that person. That is what Christian love is. Pope Francis.
34. Only Christ's love offers endless forgiveness of man's sins. Samuel Zulu.
35. Let brotherly love found in Christ only be something you live and breathe every day. Samuel Zulu.
36. True Christian love is only possible when Christ imparts His love for you. Samuel Zulu.
37. There is no greater love than God's love manifested through Jesus Christ's crucifixion, death, and resurrection. Samuel Zulu.
38. You will only attract God's blessing in your life if you learn to selfless love others as He Loves you. Samuel Zulu.
39. The moment you expect something in return for your love, just know your love isn't from God. Samuel Zulu.
40. Unconditional love that is Christ-based gives without expecting anything in return. Samuel Zulu.
41. Sadly, for most people. Love is a transaction and not something they give with a sacrificial heart. Samuel Zulu.
42. You can only truly understand God's love for you if you experience it yourself firsthand. Samuel Zulu.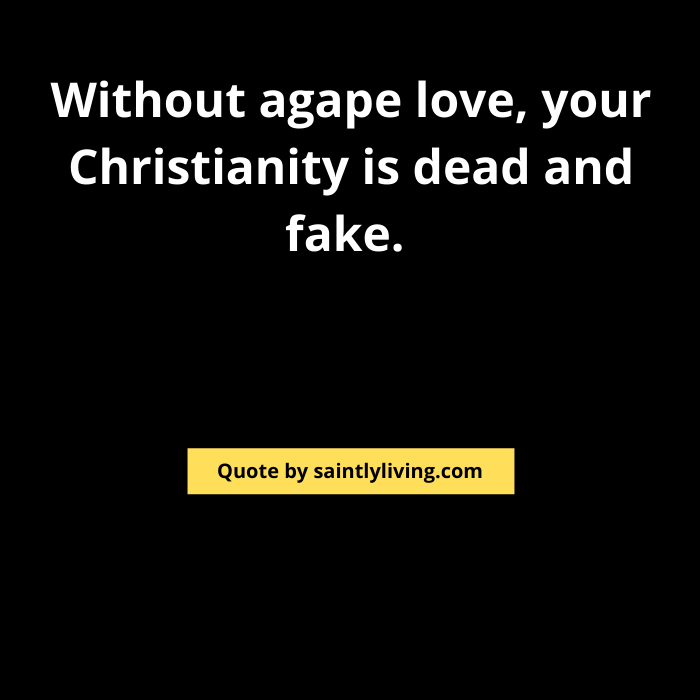 43. True Christian love always forgives the wrongs of others and doesn't hold grudges. Samuel Zulu.
44. True love always comes with forgiveness. Samuel Zulu.
45. Without forgiveness, there can be no true love at all. Samuel Zulu.
46. Real Christian love is all about loving others without counting the cost. Samuel Zulu.
47. Real Christian love is selfless and never gives up on another when things get hard. Samuel Zulu.
48. As long as you are without Christ's imparted love in your life, your so-called love will always have selfish motives behind it. Samuel Zulu.
49. Christian love must be chased after, aspired to, and practiced. Gary L. Thomas.
50. For love is heaven and heaven is love. Walter Scott.
51. Whatever a person may be like, we must still love them because we love God. John Calvin.
52. Pure Christian love is not derived from the merit of the object. Martin Luther.
53. What Christian love cannot do is affected by a common hatred. Heinrich Heine.
54. Determine to pray more words over your marriage than you speak about your marriage. Lysa TerKeurst.
55. Only the one true God can take the risk of ruling by relying on the power of humility and love. Stanley Hauerwas.
56. Where there is great love there are always miracles. Willa Cather.
57. God is love, and that love works through men-especially through the whole community of Christians. C. S. Lewis.
58. Jesus healed people one at a time because God cares about individual people. Andy Stanley.
59. Do not waste time bothering whether you "love" your neighbor; act as if you did. C. S. Lewis.
60. True Christian love is not derived from things without, but floweth from the heart, as from a spring. Martin Luther.
61. Love one another as I have loved you. Jesus Christ.
62. You shall love your neighbor as thyself. Jesus Christ.
63. Never procrastinate in showing love. Don't delay. Don't put it off. Do it now. Rick Warren.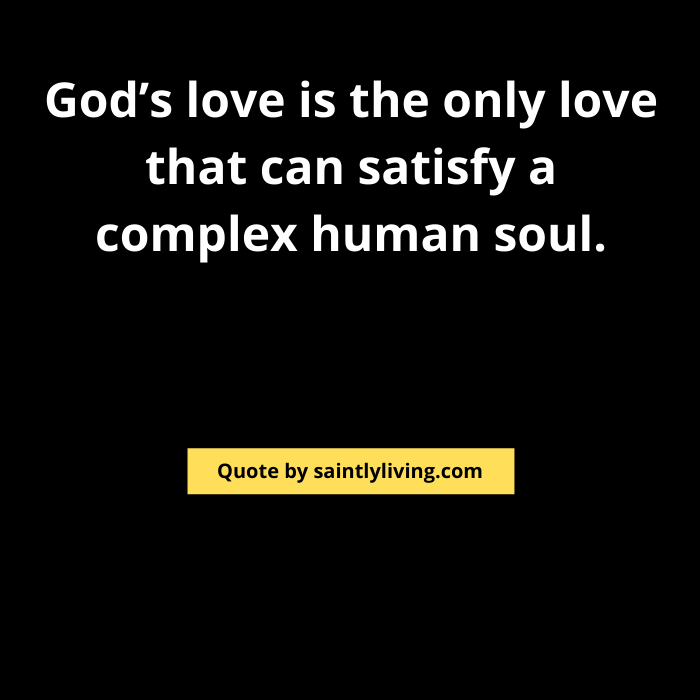 Conclusion.
I hope the 63  inspiring Christian love quotes above will inspire you to love your fellow Christians in the Lord with Christ-like selfless love the world just cannot give. Stay blessed.
Sharing is caring.